2017 Season
Try a Little Tenderness
Alexandria Smith
On View
Jan 14–Mar 25, 2017
Wanda D. Ewing Gallery
2423 North 24th Street
Omaha, NE 68110
Not-quite-adolescent girls beginning to develop senses.
Curated by Nicole J. Caruth.
Generously sponsored by the Nebraska Arts Council, Nebraska Cultural Endowment, and Paul & Annette Smith.
Alexandria Smith explores the transformative girlhood experiences that shape the women we become as she illuminates the complexities of Black identity. Try a Little Tenderness presents Smith's new and recent paintings in which she obsessively deconstructs images of the female body. Legs, hands, and pigtails, for instance, become characters and landscapes—a topography of the artist's psyche. Although her abstract tableaux have been interpreted as performances or aftermaths of violence, they actually represent bodies in flux: not-quite-adolescent girls beginning to develop senses of themselves as independent from the environments they inhabit. Collectively, they tell a mythical coming-of-age story that centers on the mental and emotional processes of self-discovery.
Ms. Smith is the first recipient of the Wanda D. Ewing Commission. The annual initiative supports the production and presentation of new work by a woman artist of the African diaspora.
Alexandria Smith
Alexandria earned her BFA in Illustration from Syracuse University, MA in Art Education from New York University, and MFA in Painting and Drawing from Parsons The New School for Design in 2010. Smith is the recipient of numerous awards and residencies including, most recently, Skowhegan School of Painting and Sculpture, the Virginia A. Myers Fellowship at the University of Iowa, A.I.R. Gallery Fellowship, the Fountainhead Residency and the Fine Arts Work Center Fellowship for 2013/14 and 2014/15.
Her recent exhibitions in New York include a solo exhibit at Scaramouche Gallery, group exhibitions at The Schomburg Center, Thierry Goldberg Gallery and Rush Arts Gallery. Recently, she has been featured in the Huffington Post articles: "Alexandria Smith's Adorably Grotesque Cartoons Explore What Little Girls Are Made Of", "Black Artists: 30 Contemporary Artmakers You Should Know Under 40" and "10 Female Artists To Watch in 2013".
Born in Bronx, New York and currently residing in Brooklyn, Alexandria Smith's art incorporates her coming-of-age experience with that of cultural phenomena and commentary. Her style features hand painting and collage that immerses subjects in a color-filled narrative. A multidisciplinary artist, Smith draws from memory, history, and autobiography for her complex retelling of girlhood and Black identity. Utilizing the perspective of an adolescent, one who is no longer a child but not quite an adult, Smith illustrates her understanding of dynamic emotion, bodily change, and self-discovery, converging the experiences into an aesthetic that mirrors disorienting life traumas.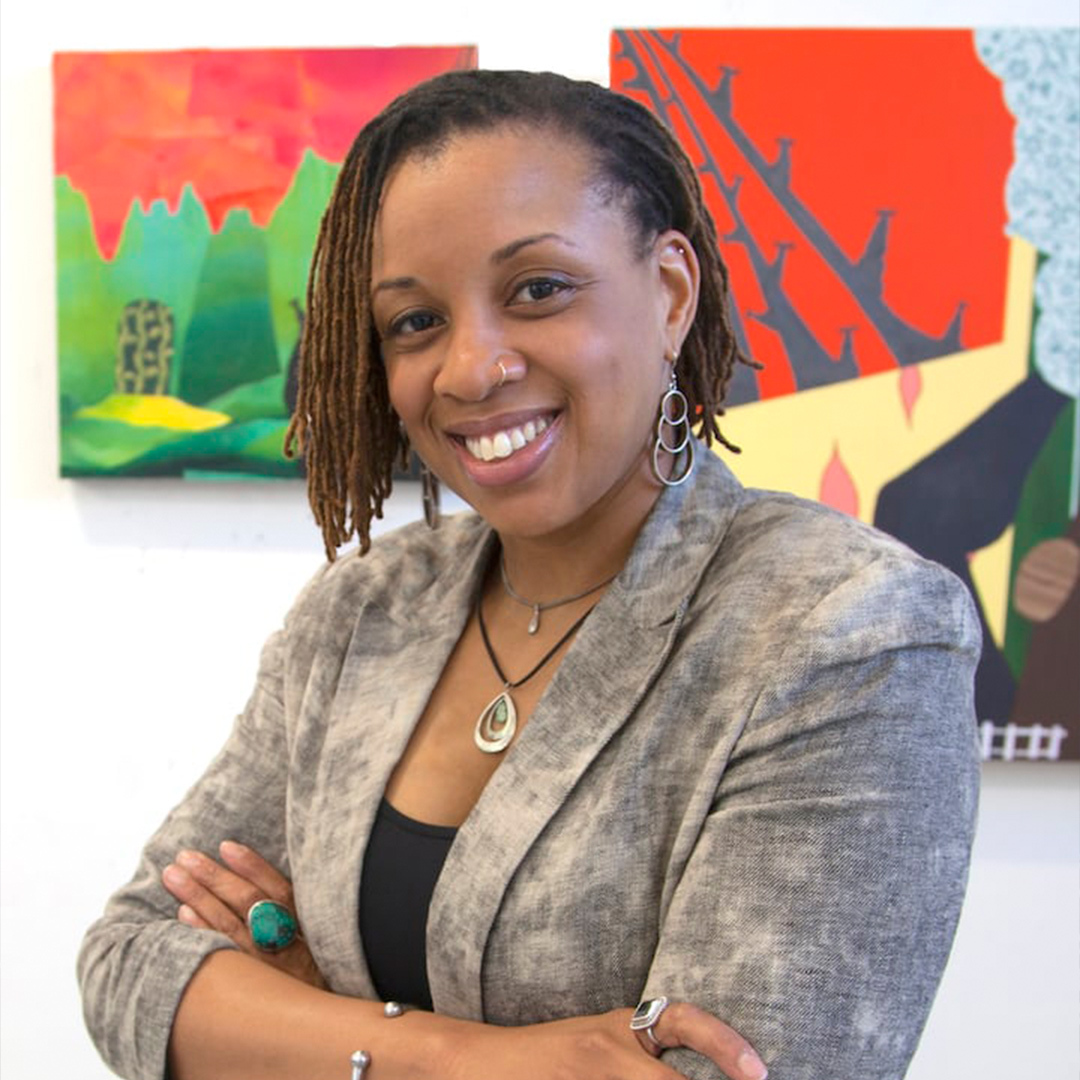 Gallery Views