The Union's Co-Op Studios provide access to art-making equipment and communal studio space for developing and professional artists (ages 18+). Co-Op Passholders will have access to five studios:
Ceramics Studio
Darkroom
Digital Design Lab
Fiber Arts Studio
Print Shop
Want to know more? CLICK HERE to visit the Co-Op FAQ page.
Email Co-Op Studios Manager, Sarah Jones, at CoOp@u-ca.org with any questions or to be added to the Co-Op newsletter.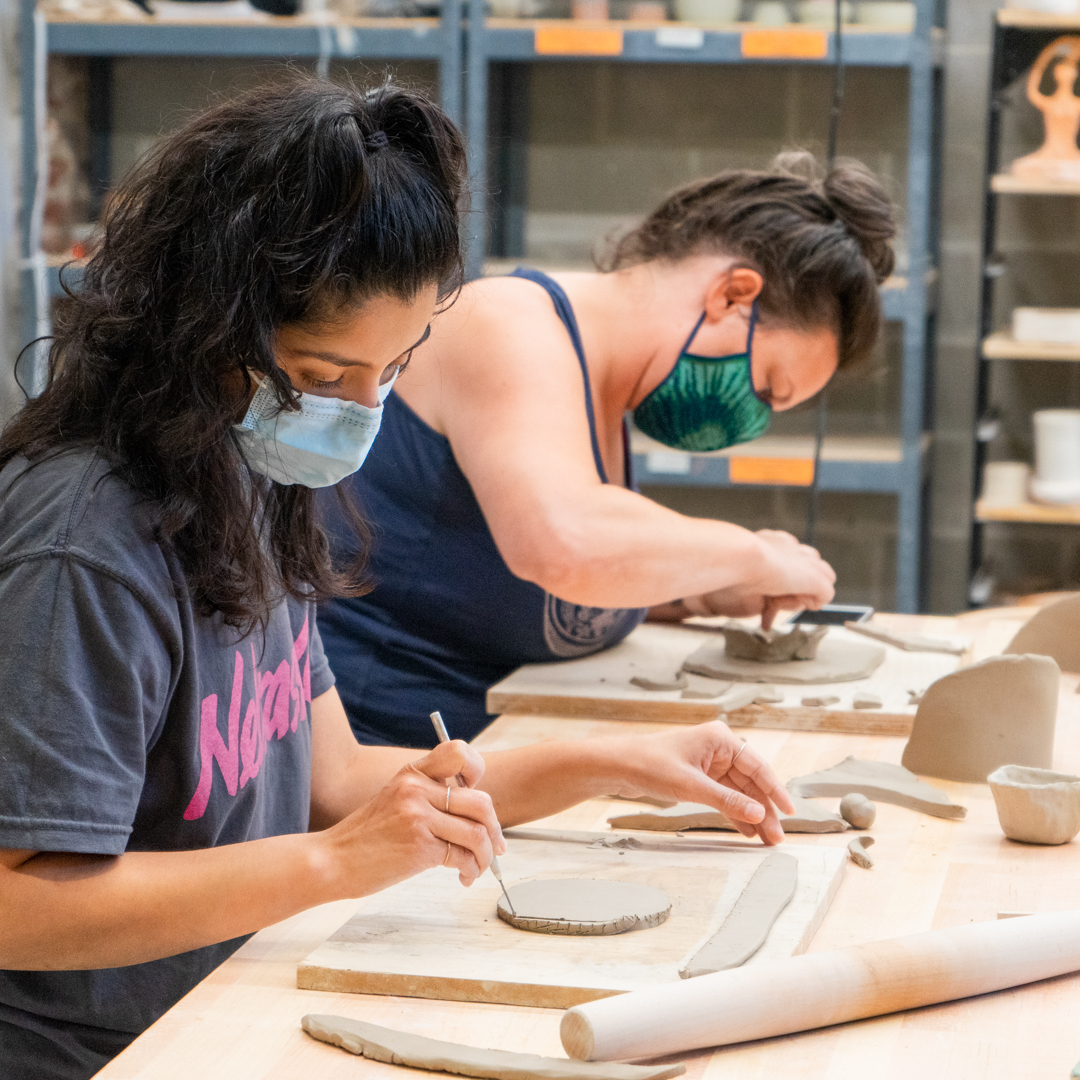 Purchase or Gift a Co-Op Studios Pass
Gain access to the Co-Op Studios by purchasing a monthly pass! A Co-Op Pass offers artists access to schedule time in all five studios during building hours. Passes are available at varying rates, beginning at $15/month*.
* Scholarships are available for anyone who wants a Co-Op Pass, but cannot afford the fee. Please email CoOp@u-ca.org or visit our front desk to inquire.

Purchase a Co-Op Pass or Gift Pass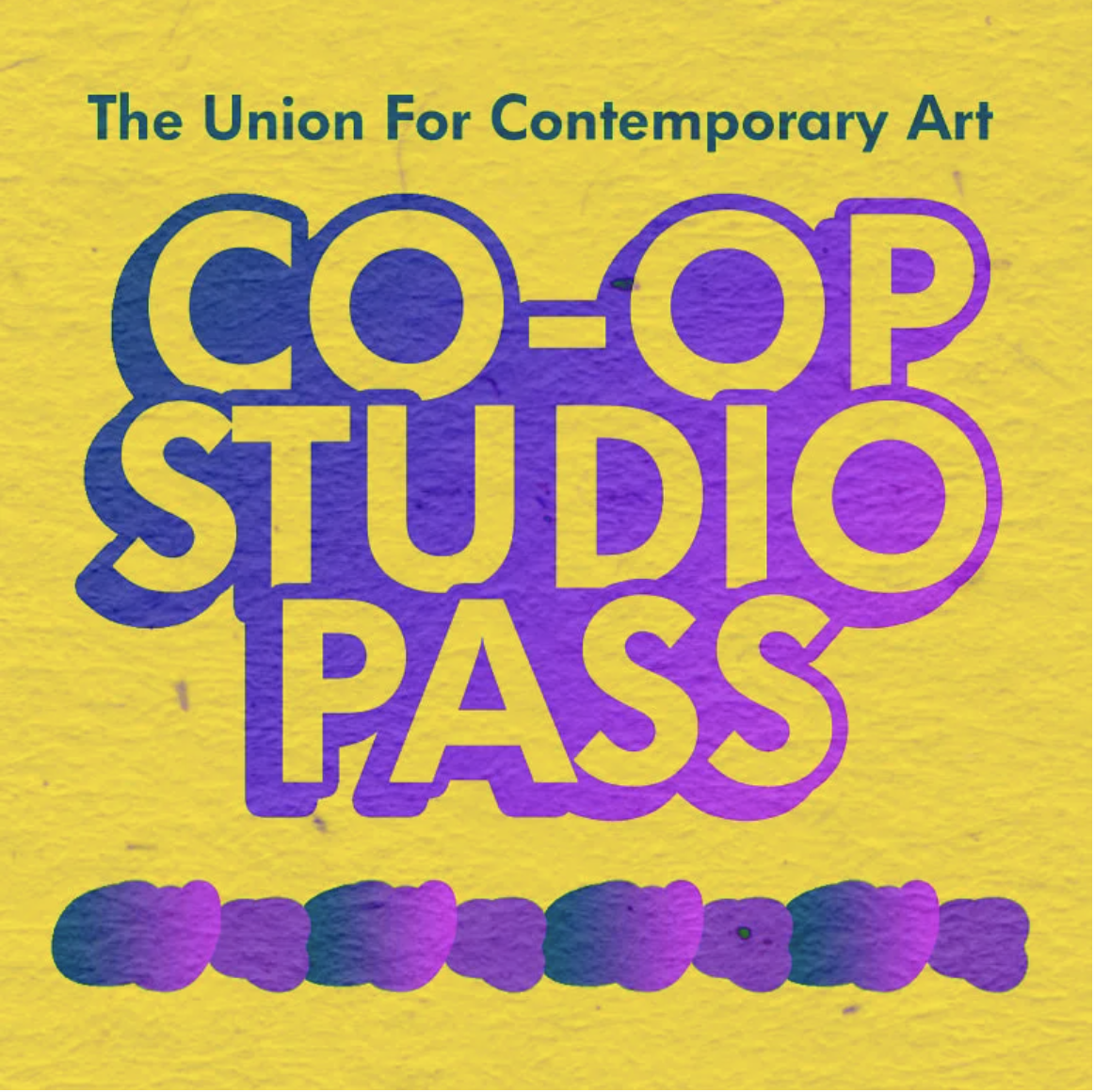 Thursday Night Workshops
Our Co-Op Workshops offer Co-Op Passholders and the wider community* an opportunity to expand their skills and learn new techniques in each of the Co-Op Studios. Click the button below to see a list of the currently scheduled workshops.
*You do not need to be a Co-Op Passholder to attend Thursday Night Workshops!
Co-Op Workshops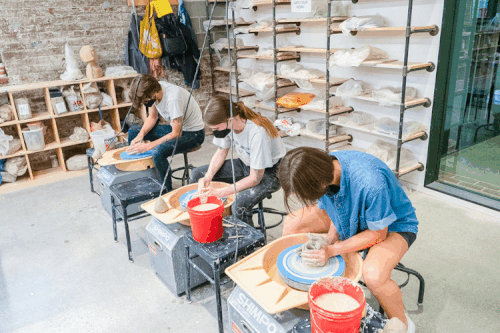 The Five Co-Op Studios
Ceramics Studio
Works made in the Ceramics Studio are regularly fired by our staff. Storage shelves for works in progress or ready for firing are available.

Kiln Bisque and Glaze Firing dates are posted in the Ceramics Studio.
Equipment:
six pottery wheels
one gas kiln
one electric kiln
glaze spray booth
two large work tables
wedging table
a variety of tools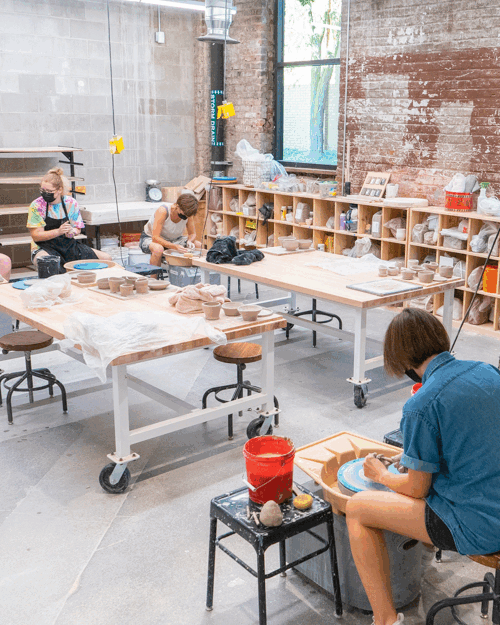 Photo Darkroom
The Photo Darkroom includes the equipment needed to develop and print photographs from black and white film.
Equipment:
one black and white enlarger
one color enlarger
black and white developing and printing chemistry
film drying cabinet
light box
mat cutter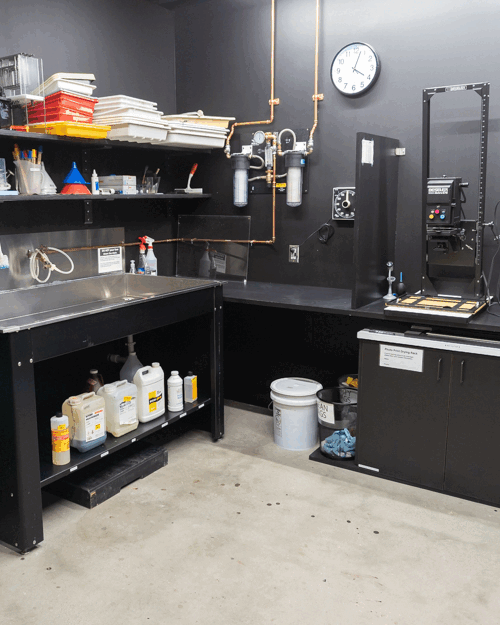 Digital Design Lab
The Digital Design Lab has an Apple computer with the Adobe suite, document/negative film scanners, and a large-format printer.
Equipment:
one iMac
Adobe Software: Photoshop, Illustrator, InDesign, Lightroom, and Premiere Pro
Epson large format graphics scanner (max image size 11"x17")
Epson V600 scanner capable of scanning 35mm and Medium Format Film Negatives
24" Epson large-format printer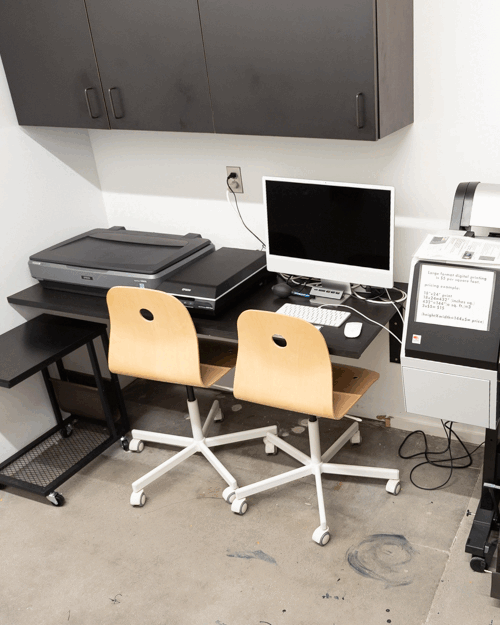 Fiber Arts studio
The Fiber Arts Studio is well-suited for everything from minor mending and tailoring projects to complete garment production, artistic embroidery, and quilting.
Equipment:
two Janome Heavy Duty sewing machines
Juki serger
two 32" looms (available upon request)
large work/cutting table
tackable wall for pattern layout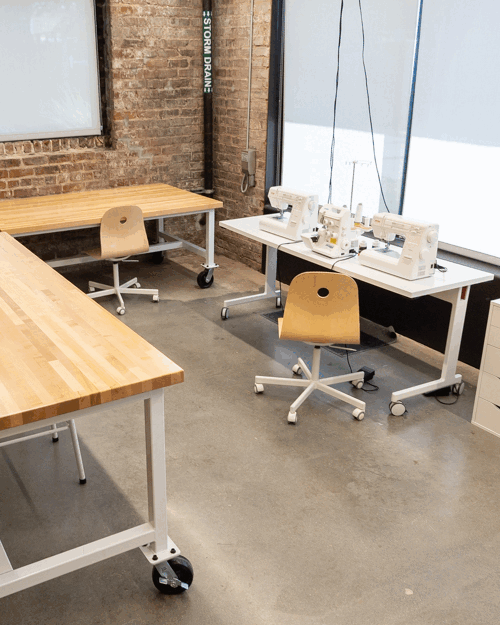 Print Shop
The Print Shop houses a wide range of printmaking tools for everything from screen printing on t-shirts and posters to relief, intaglio, and collagraph printing. The shop is fully ventilated and contains a 30"x48" print drying rack.
Equipment:
American French Tool relief/intaglio floor press
brayers
an acid bath for zinc plates
screen printing material
multiple printing tables
large exposure unit
four color/one station garment press
flash dryer
wash out booth
Risograph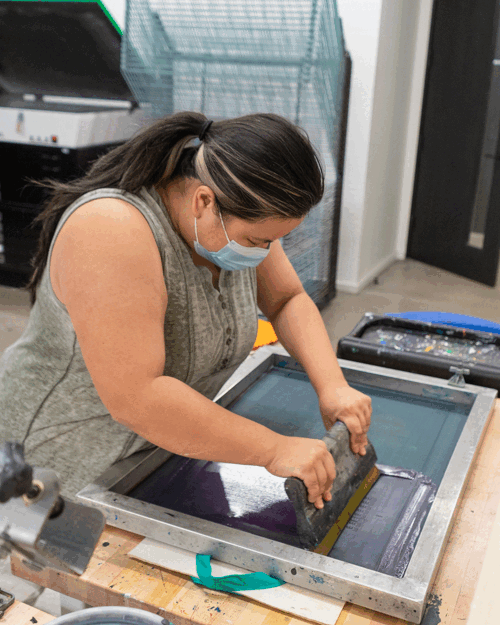 Co-Op Supplies
When using the Co-Op Studios, some supplies are available to purchase in house, and some must be supplied by the artist.
Ceramics Studio
All clay fired in The Union's kiln must be purchased via the link below. This ensures that all ceramic projects can be fired together. Purchase of clay includes firing and access to black, white, and clear glazes (cone 5).
Artists will supply any additional glazes.
Darkroom
Chemistry for Black and White film development and printing is available for purchase at the Co-Op. A price sheet is posted in the Darkroom and is based on volume.
Artists may bring their own chemistry, but must take it with them at the end of each session, or store it safely in their Co-Op locker
Artists will supply their own photo paper.
Digital Design Lab
Prints made using the large format Epson printer will be priced based on square footage. The printer is loaded with a Premium Luster Photo Paper.
Fiber Arts Studio
Artists will supply all materials for fiber arts projects.
Print Shop
Use of emulsified screens, inkjet transparencies, and Risograph master sheets/prints are available for purchase.
Artists will supply screen printing ink, any carved/etched substrate for printmaking, and paper/garments for printing.
Purchase Clay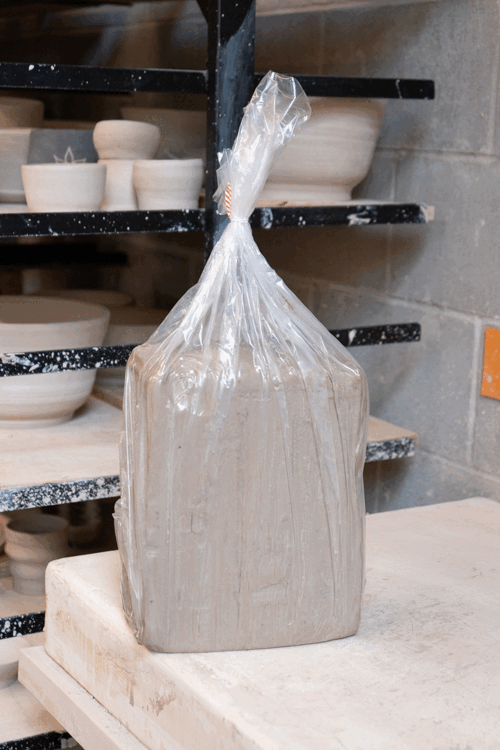 Co-Op Studio Hours
Tuesday: 1-8 pm
Wednesday: 1-8 pm
Thursday: 1-8 pm
Friday: 10 am - 5 pm
Saturday: 10 am-5 pm
Co-Op Studio Tech Hours
Tuesday: Ceramics 1-8 pm, Darkroom 4-8pm,
Print 1-8 pm
Wednesday: Ceramics 1-8 pm, Print 1-8 pm
Thursday: Ceramics 1-8 pm, Print 1-8 pm
Friday: No Technicians on Duty
Saturday: No Technicians on Duty
Co-Op Studios Mask Requests
At The Union, accessibility is one of our core values: "We are committed to removing barriers to the arts by providing programs that are accessible to everyone regardless of race, ethnicity, gender expression, sexual identity, income level, or ability."
In keeping with this commitment and in an effort to best meet the diverse access needs of individuals using the Co-Op, we've implemented a "Mask Request" policy in all five Co-Op Studios.
Passholders who are immunocompromised or otherwise medically sensitive can request that face masks be worn by all artists working in a specific studio during the hour(s) the requesting artist is present. This request can be made when scheduling time in the Co-Op via Skedda. Because each of the studios is a confined space, where folks often spend multiple hours working - the use of masks by all people in the room can significantly mitigate the risk of viral spread.
When a Mask Request has been made, Union staff will notify all other artists working in the designated studio during the hour(s) of the request. Free masks will be provided for anyone who needs one. The Union will ask that all passholders working in the requested studio comply with the request.
At the heart of the Co-Op is the community of artists who give it life and make it all possible through your participation. Our hope is that our Mask Request policy further deepens this spirit of community, mutual care, and support for artists of all needs.
Thank you to all for your understanding, flexibility, and willingness to help cultivate an inclusive creative community in the Co-Op.
**Please note, The Union will continue our COVID safe practices of regularly disinfecting the studios. Our HVAC system was updated in response to COVID to provide the maximum efficacy in clean air for our facility. We routinely check and replace our air filters. Additional air purifiers will be placed in studios upon a mask request.