EnChroma Colorblind Glasses
The Union is the first organization in the state of Nebraska to offer EnChroma glasses for colorblind people. The glasses are equipped with special lenses designed to help those with red-green Color Vision Deficiency (CVD) experience colors. The Union's investment in EnChroma glasses will enable richer engagement with many aspects of our work. Both adult and youth size glasses are now available to colorblind community members when visiting The Union. Guests will be able to experience (some perhaps for the first time in their lives) a significantly richer visual palate as they view art exhibitions in The Union's Wanda D. Ewing Gallery, create art in their public multimedia studios, or harvest free produce in their vibrant Abundance Garden.
Interested in trying a pair of EnChroma glasses when visiting The Union? Just ask to borrow a pair at the front desk. We have both youth and adult sizes, including a pair specially designed to fit over other eyeglasses.
About EnChroma
Based in Berkeley, Calif., EnChroma produces leading-edge eyewear for colorblindness and low vision, and other solutions for color vision, sold online and through Authorized Retailers worldwide. Invented in 2010, EnChroma's patented eyewear for colorblindness combines the latest in color perception, neuroscience and lens innovation to improve the lives of people with color vision deficiency around the world. For more information call 510-497-0048 or visit enchroma.com.
Our Location
The Union is located at 2423 North 24th Street. During construction of the Shirley Tyree Theater, our main parking lot will be closed, except for one ADA parking stall. Visitors can park in our west lot parking lot on Lizzie Robinson Ave. On-street parking is also available.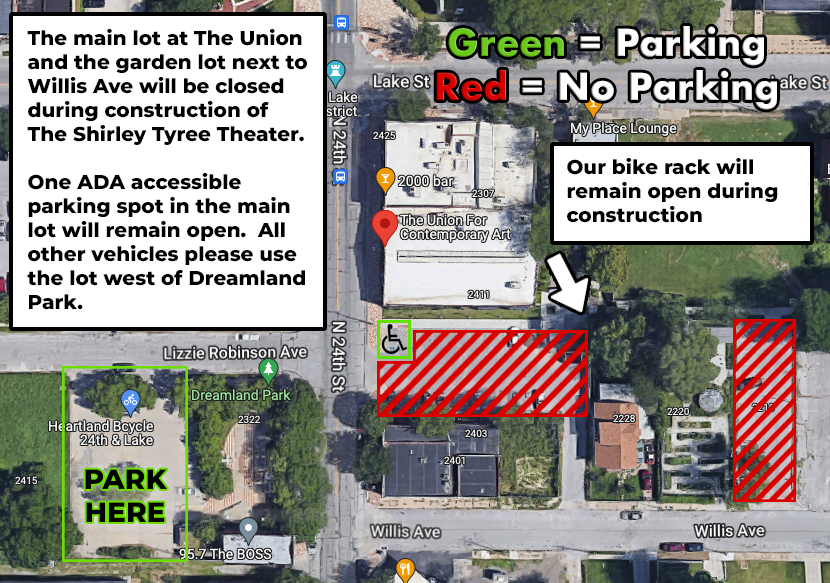 Main Entrance
There are several doors on our building. Visitors to the building can enter through our main doors on 24th St. located under the "Union for Contemporary Art" sign. There is a push button entrance on both the external and internal doors of the vestibule.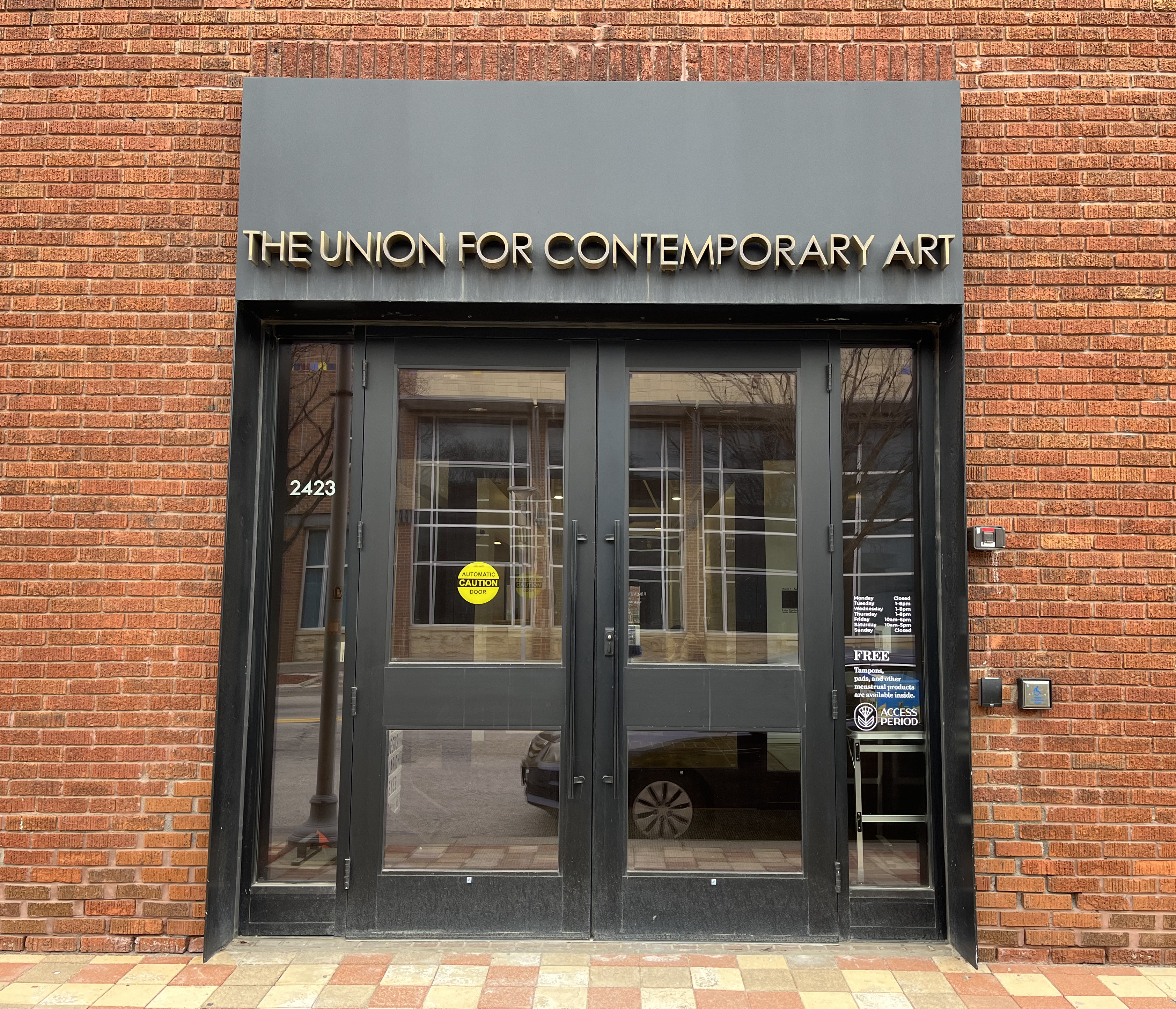 Wanda D. Ewing Gallery
The Wanda D. Ewing Gallery is located immediately to your right when you enter the building. The gallery is free and open to the public.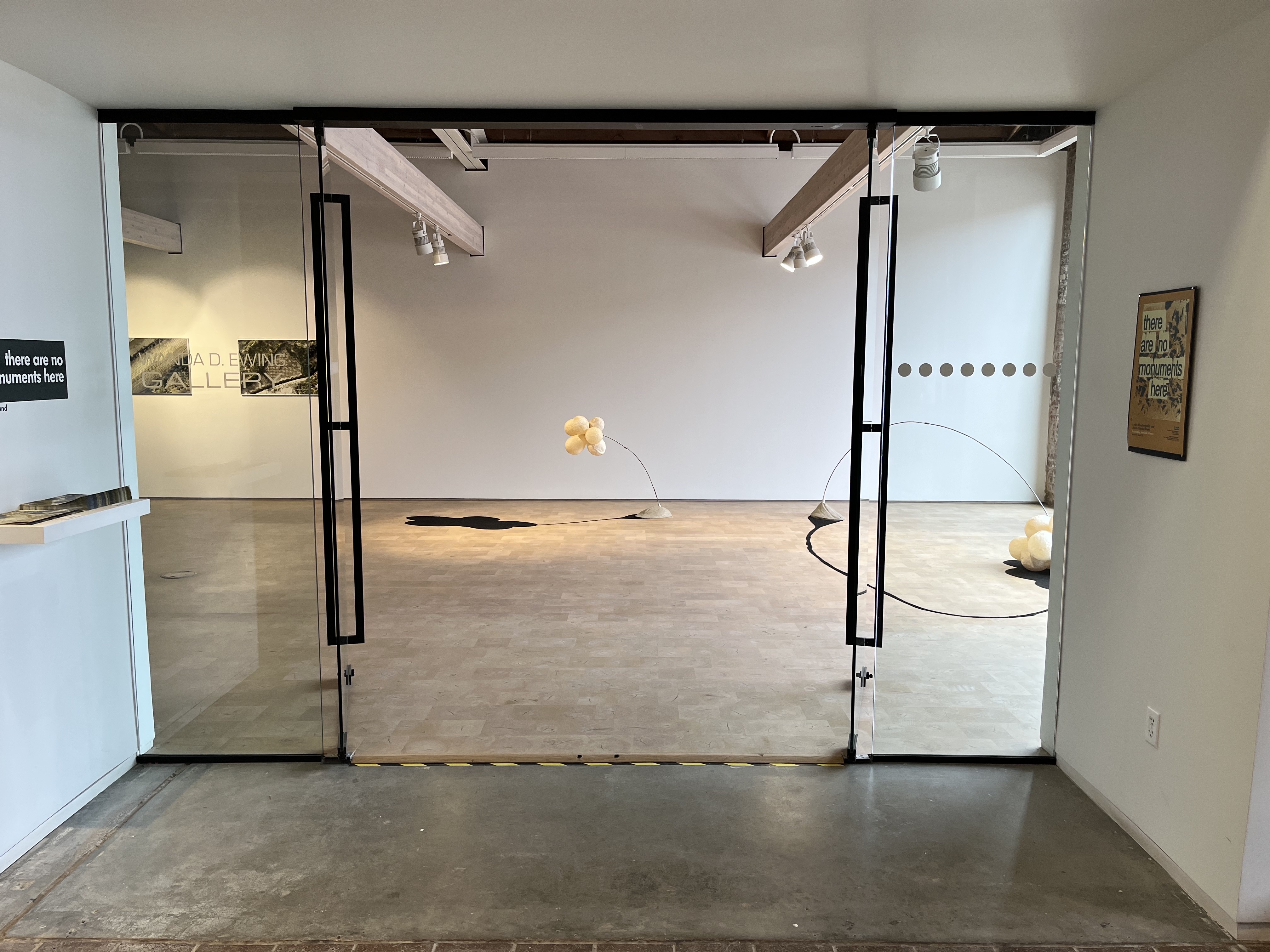 Reception Area
The Reception Area is directly across the hallway from the Wanda D. Ewing Gallery. There is a desk, 42 ½ inches tall, large windows facing 24th Street, a small library, and four chairs surrounding a coffee table. It is a great place to stop and ask questions, get more information, chat with some friendly folks, etc.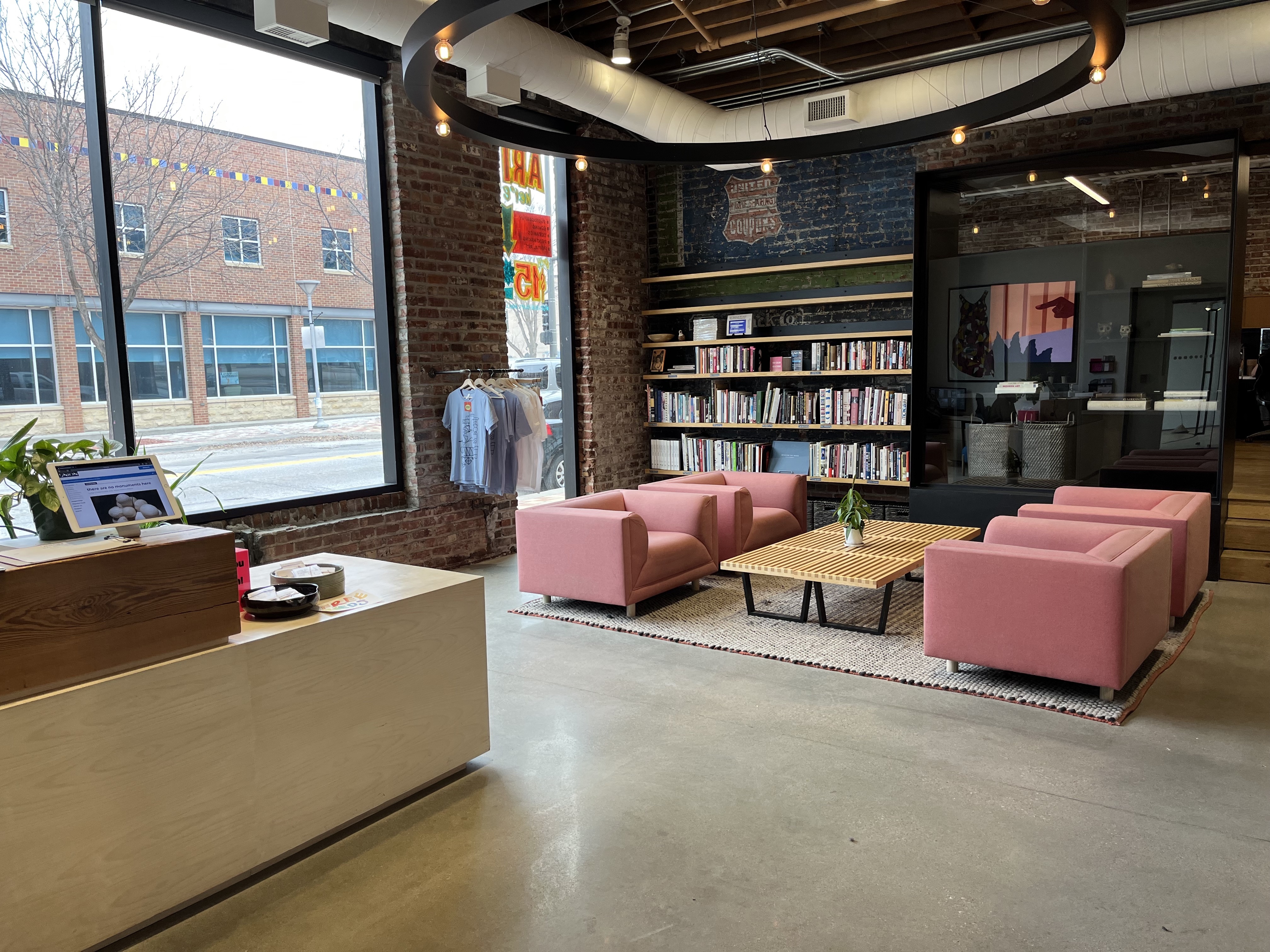 Restrooms
Two gender-neutral restrooms are located down the main hallway and up a small ramp to the left. The left restroom features four stalls, including one wheelchair accessible stall; the right features two urinals and 2 stalls, with one wheelchair accessible stall.

Both restrooms include a changing table, and free menstrual products. Two push activated drinking fountains are available outside the restrooms.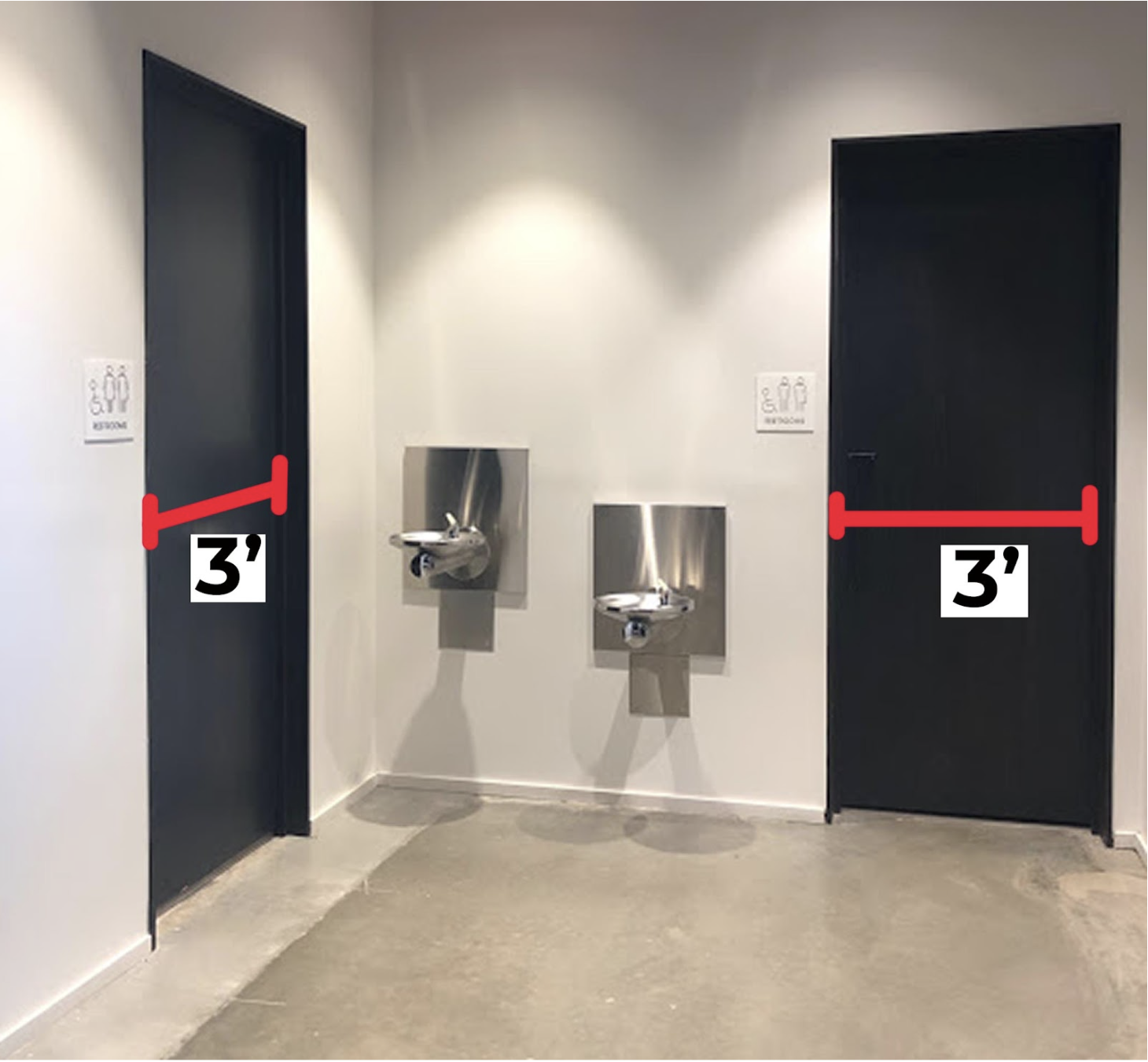 3D Building Tour
Abundance Garden Video Tour
Accessibility
The Union for Contemporary Art is committed to removing barriers to the arts by providing programs, facilities, and services that are accessible to everyone regardless of race, ethnicity, gender expression, sexual identity, income level, age, physicality, or disability.
Because service to our community sits at the core of The Union's mission and values, supporting the diverse needs of our stakeholders is central to our efforts at fostering a culture of equity and inclusion.
If you are planning a visit, and have any questions or needs, we encourage you to communicate with us in advance. Union staff will make accommodations, to the extent possible, to ensure that our programs and building are welcoming and supportive for all.
We are currently in the process of a thorough examination of accessibility within our organization, programming, events, and space. Our goals include, but are not limited to:

Conducting an accessibility audit of our facilities, programming, processes, and communications
Identifying areas where improvement is needed, and implementing changes
Developing a detailed and comprehensive Union Accessibility Guide, made available on our website
Filming a video walk-through of our building, exterior paths of travel, and program areas
Continually pursuing opportunities to make all aspects of our work and programming fully open and accessible to all
Realizing that accessibility is an ongoing process, we welcome any constructive feedback or suggestions in order to create a space that is more inclusive.
Please direct any questions, suggestions, or accessibility accommodation requests to The Union's Events + Project Manager, Kat Fackler (info@u-ca.org).
A Note on the UserWay Digital Accessibility Widget
In October 2022, The Union removed the UserWay widget from our site after using the feature for approximately one year. We removed the widget after we became aware that the tool, which is designed to improve the general accessibility of a webpage, can actually do the opposite and inhibit the functioning of other accessibility tools (like screen readers).

In its absence, we are currently pursuing a full, third-party accessibility audit of our site to identify and fix any features that fail to meet Web Content Accessibility Guidelines.
What To Expect At Gallery Openings
The Union regularly hosts Gallery Openings to mark the start of new exhibitions. Openings are always free and are open house events. You can expect to see folks moving throughout the main hallways and gallery looking at the exhibition, socializing, and enjoying food and drink.
When you come through the main entrance at The Union there will be a staff member who can answer questions and help with navigation. Union staff will be wearing blue lanyards, and event volunteers will be wearing yellow lanyards.
Children and service animals are welcome at Union Gallery Openings.
The Union hosts a variety of exhibitions including visual art, sculpture, video projection, installations, and more. If you'd like to get a visual sense of the current exhibition before attending an opening you can view a 3D tour on our Exhibition Page.
Snacks and refreshments will be provided for free at Gallery Openings. Alcoholic drinks will be available to those 21 years of age and older, and non-alcoholic drinks and water will be available. Snack options will include vegan, gluten free, and nut free choices. Food and drinks will be labeled. If you have any concerns about food allergies a Union staff member will be happy to help you.

Community Health Practices
1 - All Union staff and visitors who are feeling ill or who have been exposed to someone who's tested COVID positive are asked to not visit the building.
2 - Free masks (including clear masks) and face shields will be provided on site for anyone in need.

3 - Co-Op participation will be limited to maintain safety in the studios. To facilitate this, we've moved to an appointment-only model for reserving time to work in the studios.

4 - Co-Op passholders who are immunocompromised or otherwise medically sensitive can request that face masks be worn by all artists working in a specific studio during the hour(s) the requesting artist is present. This request can be made when scheduling time in the Co-Op via Skedda. LEARN MORE HERE.
5 - In 2021 The Union invested in updating our ventilation systems throughout the building, installing ionisers on each system which work to purify the air circulated within the building.
6 - Union staff will regularly sanitize all high-touch areas throughout the day, including a full deep-cleaning of all regularly-touched surfaces at the end of each day.
7 - We will encourage visitor hygiene with easy access to hand sanitizer throughout the building.